#4 Eden Hazard – Belgium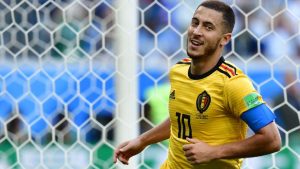 Eden Hazard was the only Belgium footballer, whose performance improved consistently throughout the World Cup 2018. Hazard stole the limelight from the excellent mid-fielder De Bruyne and Lukaku who was Belgium's highest goal scorer at this World Cup 2018.
His counterattacks against Brazil, his setup of Marouane Fellaini's goal against Japan plus his other countless contributions made him the X-factor in the Belgium team.
With 3 goals, 2 assists and tackles, Eden Hazard won 4 Man of the Match awards and is truly marked as player of the golden generation of Belgium.
#3 N'golo Kante – France
Prior to the World Cup 2018, Kante was known for his consistent performances for Leicester City and then for his present club i.e. Chelsea. At the World Cup 2018, he repeated his performances and became the unsung hero for the World Cup winners.
His contributions of safeguarding the back four helped the French to play the perfect counter-attack and score goals at will. This plus his ability to cut passing lines and break up play made him a force to reckon with at the World Cup 2018.
Kante's best performances was in the semi-finals against Belgium, when he stopped Eden Hazard's runs at the goal posts and also put a halt to Lukaku from getting any service whatsoever.
All these performances made him a true French player to deserve a medal at the World Cup 2018.
#2 and #1 hail from France and Croatia. Move on the next page to find out who they are!