Lahore Hawks team edged out Desert Campbells Rugby Club by 24-23 in the final to win the 8th Servis Tyres Rugby League.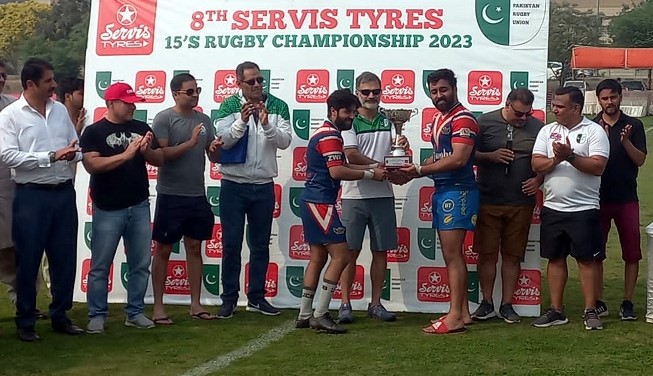 Organized by PRU-Pakistan Rugby Union, in this 15-a-side league, the teams of Lahore Hawks and Desert Campbells Fort Abbas won two matches each, while the teams of Lahore Rugby Football Club and Islamabad Jinns won one match each.  Therefore, the last match had become the final for both the teams, in which Lahore Hawks and Desert Campbells teams played very well, but Lahore Hawks team was able to win the Servis Tyres 15-a-side Rugby Championship for the first time by only one point.  
Servis Tyres 15-a-side League: Army wins the Title
At the half time, Lahore Hawks had a healthy lead of 17-3. In the second half, the Fort Abbas players played brilliantly and came back into the game. The first try was scored by Israr, the second by Muneeb and the third by Dawood while Ahmed Wasim scored a try by Lahore Hawks in the second half. All the tries were scored by Desert Campbells Fort Abbas in the second half, with Umar Daraz scoring two and Wasim one.  
Pakistan Rugby Union President, Chaudhry Arif Saeed distributed trophies and prizes among the players.
The man of the match was awarded to Dawood Gul of Lahore Hawks while man of the tournament was awarded to Aqib Siddiqui of Desert Campbells Rugby Club.