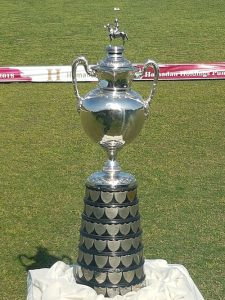 The prestigious 136 year-old Trophy is annexed by Newage/Master Paints team in an extremely close encounter, the final score of which was 3-2.
The 2022 final according to Allsportspk records was moreover same as in 2019 Barry's and Newage Teams were competing. And also as the 2018 final when Barry's had Master Paints battled.
The final played on a beautiful sunny breezy day proved to be as enchanting with spectacular polo skills being displayed to compete for the historic cup.
Barry's and Newage/Master Paints had qualified for the Ittehad Punjab Polo Cup 2022 Final, from the 8 strong teams which had competed during the week long battle for prestigious cup at the Lahore Polo Club. 
The finalist Teams included some of the studded International and Pakistan Polo players:
– Barry's: Nafees Barry, Hamza Mawaz Khan, Ernesto Trotz and Horacio Carlos.
– Newage Cables/Master Paints: Adnan Jalil Azam, Raja Temur Nadeem, Vieri Antinori and Gonzalo Deltour.