After being in charge for 6 years, Mike Hesson the head coach of the Kiwi team felt that it was time to hang his boots as he announced his resignation as coach of New Zealand.
Hesson admitted that he doesn't have the capacity left to do this job and he will step down as New Zealand's coach on 31 July. This decision of Hesson came as a shock to Kiwi fans as his record with the Kiwi team has been sensational.
Under Mike Hesson, New Zealand successfully reached the finals of the 2015 World Cup which was the highlight of Hesson's 6-year career.
AB de Villiers – Mr.360: Announces Retirement
Moreover, New Zealand became a better team under Mike and their win ratio is a clear indication of that. As under his supervision, New Zealand won 21 Tests out of 53, 65 ODIs out of 119 and 30 T20s out of 59 matches.
But these stats are not a fair indication of what Hesson really brought to the Kiwi team. As according to the current Kiwi captain, Kane Williamson, Hesson always had the "team-first" attitude and this was a major factor behind the success he witnessed in his 6-year long career.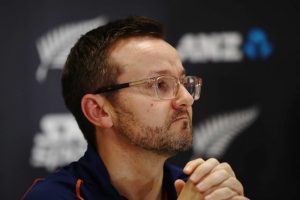 Not only that the former Kiwi captain, Brendon McCullum regarded him as the best coach that Kiwis had ever had. This statement shows the utmost respect that Kiwi players have for their coach, Mike Hesson.
Everyone would have liked for Hesson to stay until 2019 World Cup, but it was not meant to be as Mike Hesson will officially retire on 31 July 2018.
Misbah Announces To Retire After Windies Series
The process to find another coach for the Kiwi team has already been started and it is only a matter of time before the Kiwis find Hesson's replacement?
Social Media Reacts To Mike Hesson's Retirement
More details on Mike Hesson's time as coach including statements from the man himself, Kane Williamson, Brendon McCullum and David White?✍| https://t.co/Ku3NveEcpr #cricketnation pic.twitter.com/DhpgyGoAbU

— BLACKCAPS (@BLACKCAPS) June 7, 2018
Mike Hesson's run through the 2015 World Cup makes him the national team's greatest coach, surely?

— Matt Nippert (@MattNippert) June 7, 2018
Really sad to see Mike Hesson step down as Black Caps coach. Brilliant tactician and top all round person. Wishing him the very best for the future. @BLACKCAPS

— Grant Robertson (@grantrobertson1) June 7, 2018
Mike Hesson leaves an indelible legacy as @BLACKCAPS coach: https://t.co/nIDBBMOUv5

— Andrew Alderson (@aldersonnotes) June 7, 2018
Breaking: Mike Hesson has resigned as coach of the Blackcaps. What a comeback story he is. The firestorm of hate and constant calls for him to be sacked, post the captaincy saga. But, he's become one of our most… https://t.co/xajrqfqrcL

— Veitchy on Sport (@veitchynz) June 7, 2018
"I couldn't let this opportunity pass without acknowledging my wife Kate and our daughters Holly and Charlie, who have sacrificed so much for me over the past six years" More from Mike Hesson | https://t.co/Ku3NvemB0R pic.twitter.com/cTAN6YWiMt

— BLACKCAPS (@BLACKCAPS) June 7, 2018
What do you think of Mike Hesson's retirement? Did he make the right decision? Who will be the next Kiwi coach?
Comment below and let us know your thoughts.
For updates regularly visit allsportspk