Transfer News: Should Luka Modric Leave Real Madrid?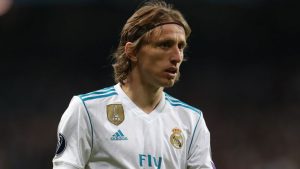 The previous months have been a period of distress for Real Madrid. To begin with, the Spanish club's previous manager, Zinedine Zidane stunned everyone by declaring the end of his tenure from the club.
Now with Zinedine out of the picture, the Spanish club welcomed Spain's national team's manager, Julen Lopetegui which resulted in Lopetegui losing his job, 2 days before the World Cup.
Zinedine Zidane Steps Down As Real Madrid's Manager
At that point came the genuine stunner as the evergreen scorer for Real Madrid, Cristiano Ronaldo left the club for €112 million by moving to the Italian club, Juventus. The bits of gossip did not stop there.
Real Madrid: Who Will Replace Cristiano Ronaldo?
Now according to several reports, Italian league club, Inter Milan have been focusing on a move to sign the Spanish club's star, Luka Modric amid the ongoing exchange window. Moreover, the player's manager has also affirmed that the midfielder wants to leave his present club and join Inter Milan.
AS: Inter have offered Modric a six-year deal worth €60m after tax (an increase of 54% over his current Real Madrid deal) – the first 4 seasons in Italy + 2 in China.

FYI.. 2 months ago Inter escaped a transfer ban but are still under UEFA's FFP restrictions.

— M•A•J¹³ (@Ultra_Suristic) August 8, 2018
But, on the other hand, Madrid's club president Florentino Perez, put a conclusion to the gossip, by saying that only the club that meets Modric's €750 million discharge statement can sign the player.
This stand regarding Modric is justifiable. As, the midfielder assumed a vital part in Real Madrid's three successive Champions League trophies. Moreover, his showcases at the World Cup 2018 further stamped his authority as a World class midfielder.
BREAKING: Bayern midfielder & ex-Barca academy graduate Thiago Alcantara is the only player that Julen Lopategui has asked the Real Madrid board for. Real will try to complete a deal before the end of the transfer window [Sky in Germany]

Could this also trigger Modrić to Inter? pic.twitter.com/WfeD2lPQE8

— Premier League Panel (@PremLeaguePanel) August 10, 2018
In any case, Allsportspk expert panel analyzes whether it is the ideal opportunity for Real Madrid to capitalize on the Croatian or not?
World Cup 2018 – Ronaldo Vs Messi: Similar Exit; Different Story
A Progressive Career So Far
Modric's professional career at Real Madrid was not a fairy tale start. This is because, in his first year, he was chosen to be the most awful signing of Real Madrid, due to his poor performances. Yet, from that point forward, Modric has made some amazing progress, as the skillful midfielder has helped Real Madrid, to win 14 trophies in his 6 years at the Spanish club.
However, the insights claim that Real Madrid are in reality better in the most prestigious league of Spain i.e. La Liga without Luka Modric.
Football Transfers: Chelsea Loan Out Michy Batshuayi
No Need For Modric In La Liga
In the 166 matches, that the midfielder has played for Real Madrid, the club have won 115 times, which amounts to 69%. And, without him Madrid have been the victors in about 76%. To aggregate up, the Spanish club have won 2.4 points without Modric, while with Modric their average has remained 2.2 in La Liga.
Real Madrid's Transition
This is a point that will benefit Real Madrid if he leaves the club. As, with Zidane's and Ronaldo's takeoffs, the Spanish club are in a period of progress. Now, with the arrangement of Lopetegui, Madrid would have to go through a transitional phase in style, which Luka Modric might find unusual to cope with.
Football Transfer Rumors: Manchester United Close On Signing Toby Alderweireld?
Moreover, while Zidane mainly focused on ball development, Lopetegui prepared his Spanish group for persistent development, and he will also do the same with Real Madrid. This implies that midfielders would assume the part carrying the ball rather than passing it to the forward players.
Although this part fits well with Modric, however Lopegetui would want to try it more with Kroos, Isco, and Casemiro all of which would ostensibly improve in this area.
Focusing On Young Talent
Real Madrid have selected against sprinkling the trade out the market, as they need to create youthful players like Asensio and Isco. The signings of Álvaro Odriozola, Vinícius Júnior, and Andriy Lunin are a piece of this technique.
Football Transfers: Why Mateo Kovacic Is Necessary For Manchester City?
While Kovacic may have left Real Madrid for this season, Dani Ceballos is still on their books. So in the event that they are searching for a long haul accomplice for Casemiro, at that point offloading Modric in this window will be perfect.
Football Transfer Rumors: Paul Pogba To Barcelona, Confirmed?
Conclusion
To sum up, Allsportspk expert panel concludes that there is no point in retaining Luka Modric, as under Julien Lopetegui, Real Madrid is going in the right direction by focusing on young talent.
Also, will Inter pull off Modric in the next 48+ hours? That would be a massive scoop. They've had the best transfer window in my opinion.

— Rossé Marrai-Ricco (@RossellaMarrai) August 15, 2018
Yes if #Modric come we are for the scudetto for sure, but it is unrealistic right now because Real Madrid also have fans and a transfer of the best player of the World Cup will be a huge problem for Perez and the club 🙁

— EnJoY Inter (@EnjoyInterNews) August 15, 2018
Modric could still join Inter

Inter Milan have reportedly not given up on luring Luka Modric to Serie A.The Italian giants have repeatedly been linked with a move for the Croatian this summer.
Inter could make a last-ditch to sign him Modric before Friday's transfer deadline. pic.twitter.com/KVXRY6fgtk

— Lilian Chan (@bestgug) August 15, 2018
What are your thoughts on this transfer? Should Real Madrid sell or retain their prized midfielder? Comment down below.
For more updates keep visiting allsportspk