All is geared up for the XII FIP-Federation of International Polo World Polo Championship 2022, being hosted in USA for the second time in the competition's history.
Championship Groups + Schedule Scroll Down
The tournament is being held in Florida, USA from 29th October – 6th November, with the top 10 to 14-goal teams – Argentina, Australia, Italy, Mexico, Pakistan, Spain, the United States and Uruguay, competing for the international polo glory.
Qualification Playoffs Road
The qualification road of the eight teams for the FIP World Polo Championship, began with five zone playoffs which included more than 25 countries battling for the opportunity of a lifetime to represent their nation on an international stage. Argentina the 2017 defending champions and host country United States automatically qualified, and the remaining six teams entered after zone playoff competitions. Teams advancing from each zones include Mexico (Zone A – North America and Central America), Uruguay (Zone B – South America), Spain and Italy (Zone C – Europe), Australia (Zone D – Asia and Oceania) and Pakistan (Zone E – Africa, Pakistan and India). 
XII FIP World Polo Championship 2022-Zone E Playoffs: Match 2-Pakistan Defeats India & Qualifies…
Competition Groups
The teams have been divided into two groups as follows: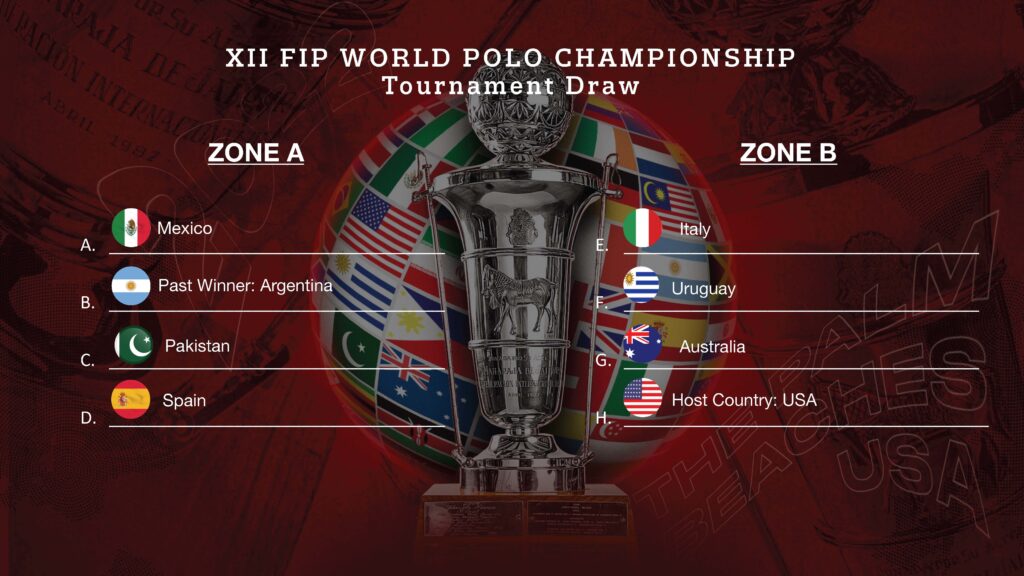 The initial group games will be played at VPF-Valiente Polo Farm and the opening ceremony, semifinals and final will be held at NPC – National Polo Center, Wellington.
XII FIP World Polo Championship Schedule
Saturday, 29th October
Zone A
9:30am ET: Game 1 – Mexico vs. Argentina at Valiente Polo Farm
11:30am ET: Game 2 – Pakistan vs. Spain at Valiente Polo Farm
Zone B
1:30pm ET: Game 3 – Italy vs. Uruguay at Valiente Polo Farm
3:30pm ET: Game 4 – Opening Ceremony and Australia vs. USA match at NPC-National Polo Center, Wellington
Monday, 31st October
Zone A
9:30am ET: Game 5 – Winner Game 1 vs. Loser Game 2 at Valiente Polo Farm
11:30am ET: Game 6 – Winner Game 2 vs. Loser Game 1 at Valiente Polo Farm
Zone B
1:30pm ET: Game 7 – Winner Game 3 vs. Loser Game 4 at Valiente Polo Farm
3:30pm ET: Game 8 – Winner Game 4 vs. Loser Game 3 at Valiente Polo Farm
Wednesday, 2nd November
Zone B
9:30am ET: Game 9 – Loser Game 3 vs. Loser Game 4 at Valiente Polo Farm
11:30am ET: Game 10 – Winner Game 3 vs. Winner Game 4 at Valiente Polo Farm
Zone A
1:30pm ET: Game 11 – Loser Game 1 vs. Loser Game 2 at Valiente Polo Farm
3:30pm ET: Game 12 – Winner Game 2 vs. Winner Game 1 at Valiente Polo Farm
Friday, 4th November
12:00pm ET: Semifinal 1 
First Place Zone A Team vs. Second Place Zone B Team at NPC – National Polo Center, Wellington
3:00pm ET: Semifinal 2
First Place Zone B Team vs. Second Place Zone A Team at NPC – National Polo Center, Wellington
Sunday, 6th November
12:00pm ET: Bronze Medal Final at NPC – National Polo Center, Wellington
3:00pm ET: XII FIP World Championship Final at NPC – National Polo Center, Wellington