Today a total of 3 matches were held of the ongoing FIFA World Cup 2018.The match wise highlights are appended below.
In case, you missed the highlights of the first match click here.
FIFA World Cup 2018 – M3: Morocco VS Iran 1-0
Highlights:
WC '18 – Match 3: Morocco Vs Iran
Result: 1 – 0
Goal Scorers:
Iran: Aziz Bouhaddouz 90'+5′ (OG)
Highlights: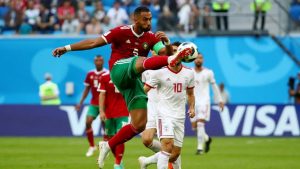 The 1st half of the match was quite eventful with lots of opportunities taken by both teams.
Morocco were dominant in their shots and possession but couldn't score a goal in the 1st half as it came to an end with the score being 0-0.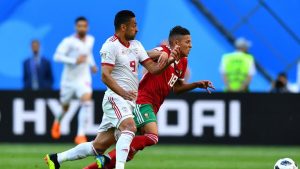 Substitutions were made by both teams in the 2nd half in hopes of scoring the opening goal of the match.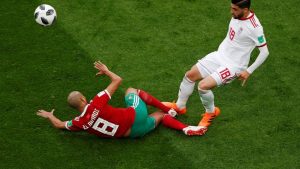 Chances were being taken, fouls were happening, yellow cards were being given. All this but not a single goal was being scored by any team.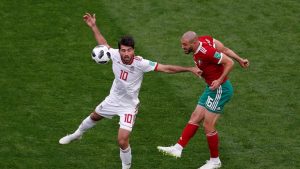 Frustration was now sinking in the players and fans alike as the match was coming to an end with no goals by either side.
But, in a surprising turn of events, Aziz Bouhaddouz scored an own goal at they dying minutes of the game.
This goal proved to be match winning as Iran won the match by 1-0. It was an unfortunate loss for Morocco as they had lost after doing all the hard work in possesion and shot-making.
sums up the Morocco v. Iran game pic.twitter.com/XZLashOlJZ

— Katya? (@kattyyaaaaa) June 15, 2018
What a game.

Morocco did all the running, created most chances, had more possession and even scored the goal.

But Iran won. pic.twitter.com/ZmMw8UmXua

— Mohammad Isam (@Isam84) June 15, 2018
Say what you want about how bad you feel for Aziz Bouhaddouz's own goal and how this loss to Iran pretty much ends any hope for Morocco to get out of Group B but that WAS a tidy finish.

— Jimmy Conrad (@JimmyConrad) June 15, 2018
#MARIRN
Even Jamie Lannister couldn't save Morocco.
Congrats Iran Fans.
20 years in the making. pic.twitter.com/A85solhEIr

— ASIF (@AS_IFyouKnowMe) June 15, 2018
Morocco scores an own goal in stoppage time. Iran wins 1-0. pic.twitter.com/ycdI2zPA87

— 2018 World Cup Highlights and Goals (@The2018WC) June 15, 2018
So Morocco didn't vote for SA to host the World Cup in 2010.
They refused to host AFCON because of Ebola fears in 2015 only to host the Club World Cup later that year.
They then lost their 2026 World Cup hosting bid.
Now they've lost their opening #WorldCup match. pic.twitter.com/uJmbH4BjIz

— Sibongile Mafu (@sboshmafu) June 15, 2018
FIFA World Cup 2018 – M4: Portugal Vs Spain 3-3
Highlights:
WC '18 – Match 4: Portugal Vs Spain
Result: 3 – 3
Goal Scorers:
Portugal: Ronaldo 4′, 44′,88′
Spain: Diego Costa 24′, 55′, Nacho 58′
Highlights:
It was a World Cup 2018, battle of the football giants, Portugal and Spain.
In the 1st half, an early goal was netted by Ronaldo after Portugal was gifted a penalty by Spain.
But, the Spaniards didn't sit on the sidelines as the Atletico striker, Diego Costa struck an equaliser at the 24th minute.
Diego Costa does it himself to pull Spain level! pic.twitter.com/7hoyfaHEyj

— FOX Soccer (@FOXSoccer) 15 June 2018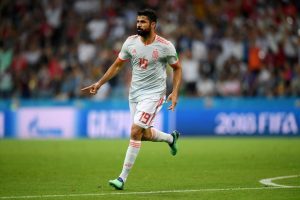 The scores were now level but it didn't stay the same. As, the Portuguese captain, Ronaldo struck another goal at the dying moments of the 1st half to put Portugal in the lead.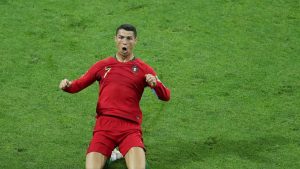 The 2nd half went underway with Spain looking to equalise the scoreboard. And, they succeeded in their objective as Costa also scored his 2nd goal of the match.
Another one for Diego Costa!

Spain's training-ground free kick ends up in the back of the net thanks to Busquets and Costa. ?? pic.twitter.com/lpEVcJALe5

— FOX Soccer (@FOXSoccer) 15 June 2018
Spain didn't take their foot off the gas and they were rewarded for their intent as Nacho put his team in the lead by scoring yet another goal.
What. A. Hit. Nacho puts Spain 3-2 up v Portugal. ???#POR 2-3 #ESP #WorldCuppic.twitter.com/otWGhs49mp

— Joe Prince-Wright (@JPW_NBCSports) 15 June 2018
The match was slowly coming towards its end and Portugal, especially Ronaldo was trying his best to equalise the scoreboard.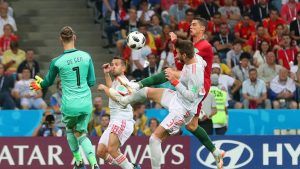 But, Spain's defenders lead by Sergio Ramos were constantly becoming a hindrance in Portugal's attacks.
However, when a free kick was awarded to Portugal at the dying moments of the match, everyone became hopeful for another goal.
And, Ronaldo delivered like a champion as he equalised the scoreboard by a wondrous kick past Spain's goalkeeper, De Gea.
Absolutely genius @Cristiano First player to score hattrick against Spain in their world cup history. ??
What a free kick that was .
Perfection ???#PORESP #PortugalVsSpain #Ronaldo #POR #GOAT #CR7 #Portugal #CR7 #POR 3 – 3 #ESP #PORESP #WorldCup pic.twitter.com/gI1USUqqS7

— Sakkeer Poozhithara (@sakkeermsp7) 15 June 2018
This also concluded the match as it ended with the final result being a draw.
At 33 years and 131 days old, Cristiano Ronaldo is the oldest player with a hat trick at the #WorldCup. #Greatness pic.twitter.com/4WWMSF1Mnq

— Deji Faremi (@deejayfaremi) 15 June 2018
For all my homies who haven't seen the Nacho goal…..

And for all my homies who wanna see it again….. #PORESP https://t.co/UgSsSrUJVx

— Castro1021 (@Castro1021) 15 June 2018
1998 – Nacho is the first Spanish ?? defender to score from outside the box in the World Cup ? since Fernando Hierro in June 1998 v Nigeria ??. Golazo.#WorldCup pic.twitter.com/FzL2bmhZdy

— OptaJean (@OptaJean) 15 June 2018
Ronaldo with a class performance, Pique has become a meme, De Gea can't save a beach ball, Isco ran that midfield, six goals, Diego Costa scoring a fine one as well. Great match. #WorldCup

— Roy Nemer (@RoyNemer) 15 June 2018
7 goals out of the 8 scored today came from players currently based in Madrid.
Atlético Madrid: Gimenez, Diego Costa 2x
Real Madrid: Nacho, Ronaldo 3x

The capital of Spain really rules the world.

— B. ?? (@BlancoStats) 15 June 2018
i knew Diego Costa's face was familiar. #PORESP pic.twitter.com/Itxye35pej

— Negar. (@_Negarrr_) 15 June 2018
Join allsportspk tomorrow for the next matches of the ongoing FIFA World Cup 2018.